Ticketing for both online and offline events on the same website? Yes, it's possible!
Summary:
The world is slowly opening towards regular live events but some events are still being held in the safety of the Internet. You can sell the tickets for both on the same website and make sure that your customers will get what they paid for.
The whole pandemic situation caught the world off guard and threatened to destroy every industry that relied on massive gatherings. Needless to say, the event industry took quite a blow as events got cancelled and everything simply stopped. Creative minds of event industry did their best to overcome this adversity but the challenge was immense and the results were mixed. We've been paying close attention and did our part in finding solutions for you, a result of which are the ideas for streamed events, drive-in events and a small howto for socially distanced events.
However, the vaccine for the nasty virus that caused all of this is finally on the horizon and some countries even started opening a bit for some live events here and there. Still, if anything good came from all this is that event organizers explored and familiarized with the concept of online events and figured out obvious benefits of them. So, what we can expect in the future is that some events will remain in the realm of the online world (conferences, workshops, etc.) while other events such as concerts, theater plays and standup comedy shows will go back to where they belong - to stadiums, venues and theaters.
Not sure what is Tickera? Go
here
to find out!
In a way, we have now event ticketing "duality" as there are websites that are selling tickets for both online and offline events.
Now, if you think for a moment about this, you will soon realize that there's no need for the actual tickets if the event is streamed online as attendees won't be checking-in... heck, they won't be leaving their couch even. At the same time, events that will be held at the venues will require actual tickets and "classic" check-in process.
We had several customers already inquiring about this so we had to figure out a solution for this... and we did.
What do I need?
Not much 🙂 If you already use Tickera on your website to sell the tickets, all you need is one tiny add-on we've put together for this particular purpose.
When you install this add-on you will notice that there is a new option in the General Settings of Tickera, within Event Settings area that says quite self explanatory Hide ticket download links for these event categories.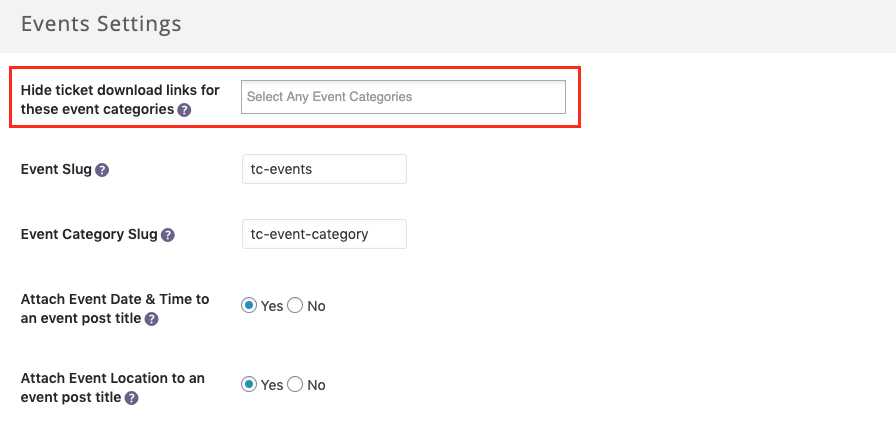 Presumably, you're getting the idea what this means. In short, you only need to categorize your events as online or offline (or name categories whatever you want) and then select here which event categories you would like to hide the ticket download links for. Sounds simple? Yes, because it is 🙂
What this add-on also does is that it adds the event streaming URL field for your events. So, when you're creating new or editing existing event, you will be able to enter a streaming URL to the field as displayed in the screenshot below if, of course, this event is streamed event.
For more information on how to set up streamed events on your website, please check our post here which deals with all the little details about this.
How does this work for the customers?
It works like a charm actually. If they purchase only the tickets for the events that you have selected to hide ticket download links and added streaming URL for those events, once they finish the purchase, a table with purchased tickets and Streaming URLs will be loaded on the order details page as well as in the email that they will receive after the purchase.
But what if they purchase the tickets for multiple events some of which are offline while others are online? We thought about that that too and the result is that they will also get the table with their purchased tickets but the tickets for the online events will have Streaming URL while the tickets for the "regular" events will have the download link as usual.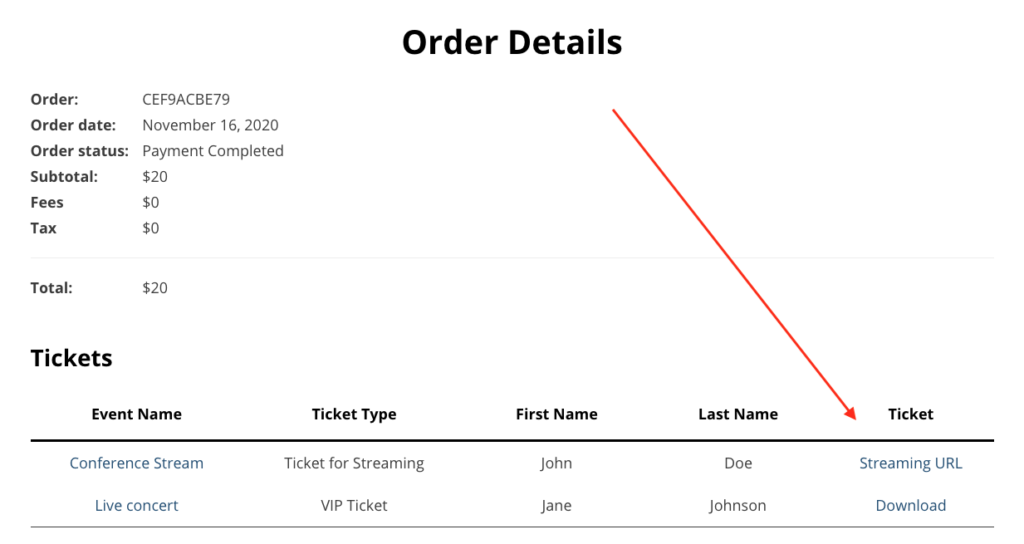 Conclusion
Regardless of whether you are dealing with the online or offline events or both on your website, this little add-on might help you great deal to avoid confusion among your customers and deliver them exactly what they have purchased: streaming URL for the online events and ticket download links for the offline events.
Happy online and offline ticketing!