To Bridge or not to Bridge? That is the question!
As you already may or may not know, Tickera can work in two different "modes". It can run as a standalone in which case Tickera handles ticket sales by itself using one or more payment gateways supported by Tickera (a complete list can be found here).  However, Tickera also has a seamless integration with WooCommerce via Bridge for WooCommerce add-on in which case ticket types are created as WooCommerce products and WooCommerce takes care of the whole checkout process using one or more payment gateways that you have set up to use with WooCommerce.
One of the most commonly asked questions that we receive from our new customers is this:
Should I run Tickera as a standalone or alongside WooCommerce via Bridge for WooCommerce?
Not sure what is Tickera? Go
here
to find out!
And the shortest answer to that question is... it depends. No, really, it entirely depends on the specifics of your scenario. With some ticketing scenarios, it simply doesn't matter but some other will require some features that are only available with one "mode". Now, while we are doing our best to explain most commonly used scenarios in our series of Use cases, it still remains a question that we're getting asked every day... several times. So we will try to keep it simple here and provide brief yet informative explanation that might help you decide which way you should go.
Need a simple event ticketing where everything is done in one place?
Use Tickera only. As soon as you install Tickera plugin and set up payment gateway that you want to use, you're ready to create your first event and ticket types for it. You can be up and running selling tickets on your website in literally minutes. And you won't be lacking anything when it comes to event ticketing: from ticket sales, quantity limitation, check-in availability all the way to check-ins at the door, Tickera covers it all and everything is included right in the box with no additional plugins needed.
Want to sell some goodies as well?
If your scenario requires selling additional items apart from the tickets, or even if you need to sell the tickets bundled with some other products (eg. T-shirts, mugs, etc.), you should use Tickera with WooCommerce. That way, you can use the same shop page to sell the tickets and everything else or even use WooCommerce's upsells and cross-sells features. Additionally, and this may come very handy, you can sell tickets in bulks as explained in the solution here.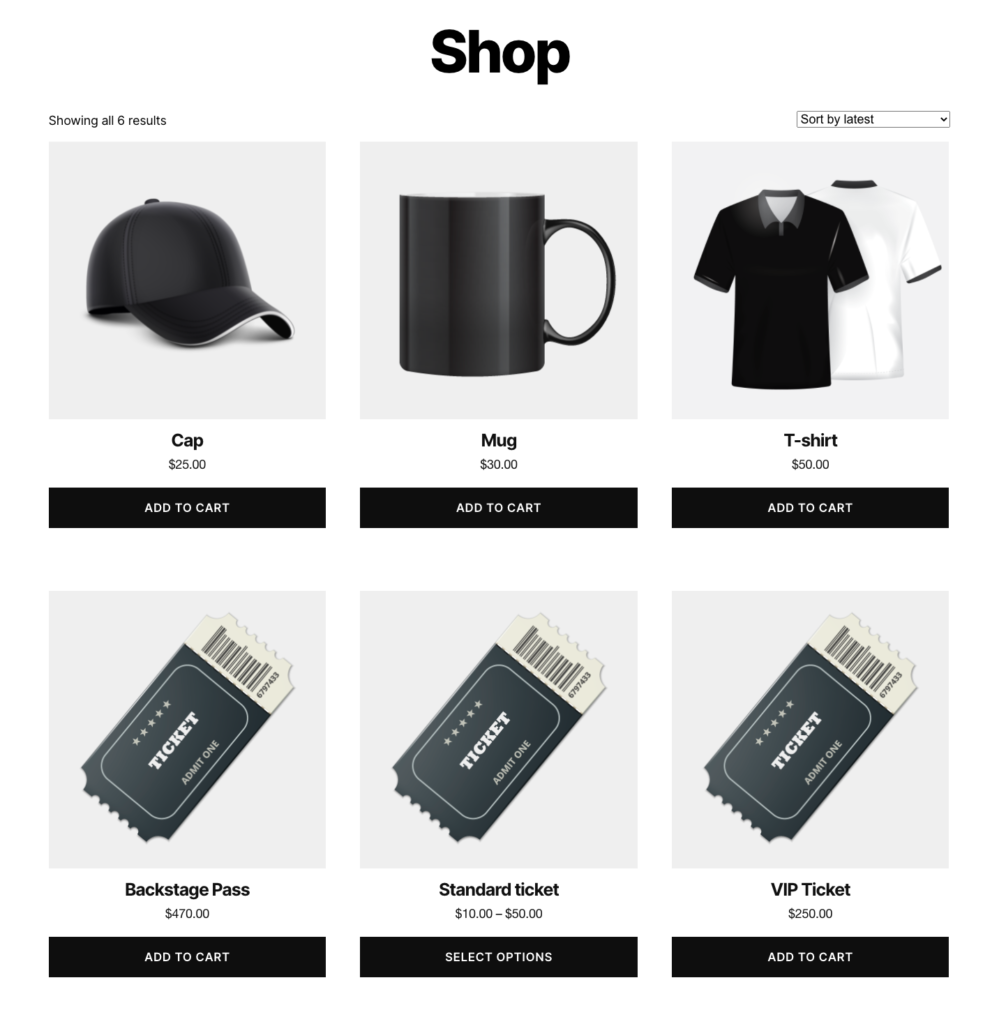 Need a specific payment gateway not supported by Tickera itself?
Use Bridge for WooCommerce. Although Tickera comes with quite a few payment gateways integrated to it, we understand that not all the payment gateways available in the world are covered by Tickera itself. This is where integration with WooCommerce via Bridge for WooCommerce profits on WooCommerce's popularity. There are literally thousands of payment gateways available for WooCommerce and you can use pretty much any of them for your ticket sales since when Bridge for WooCommerce is installed, tickets are created and sold like any other WooCommerce product.
Want to sell the tickets with assigned seating?
It makes no difference - Tickera works in both standalone and "bridge" mode equally well with our Seating Charts add-on. There is one exception though: If you need to sell the tickets with assigned seating and offer multiple different prices for the same seats (eg. Adults, Children, Elderly), then you should use Bridge for WooCommerce. The main point is the ability to create ticket types as variable WooCommerce products and when seats are assigned with tickets that are created like that and customer clicks the seat they would like to purchase the ticket for, a popup will appear where they will be able to select the variation they would like to add to their cart.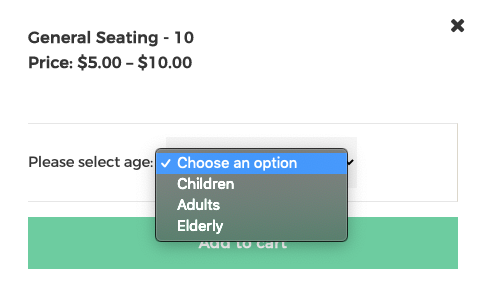 Don't like or don't want to use WooCommerce?
Yes, this happens as well. We had more than a few customers that categorically refused our suggestion to run Tickera alongside WooCommerce via Bridge for WooCommerce. If you're one of them and don't want to use WooCommerce for whatever reason, you can simply use Tickera as a standalone. The selection of available payment gateways will be quite lower but all the major ones are covered: PayPal Standard, PayPal PRO, Stripe, Braintree, Authorize.net... and the list goes on. And, if you're familiar with the development and mechanisms of payment gateways, you can even integrate additional payment gateways to Tickera by following our guideline here.
Started selling tickets in one mode but want to switch to another?
Caution! This can be potentially dangerous action!
If you started selling tickets with Tickera as a standalone and want to continue with Bridge for WooCommerce, you can proceed, nothing bad will happen. However, switching the other way around is a no-go! The thing is that in order for Tickera to communicate with WooCommerce, our Bridge for WooCommerce add-on must be enabled.
As a general advice, we strongly recommend making the switch from one "mode" to another only once your event is finished and before you start selling tickets for the next event.
Let's assume that you have already sold some tickets as WooCommerce products and it's all fine and dandy... and then you deactivate Bridge for WooCommerce. Immediately, all the tickets within the Attendees & Tickets area of Tickera will state N/A in the Ticket Type column. Help! What in the world happened? This is because without Bridge for WooCommerce add-on, Tickera cannot associate the existing ticket instances with the products that were declared as tickets. Long story short, all the tickets will become ineligible for check-in. But as soon as you activate Bridge for WooCommerce again, all the tickets will be fine again. From this, you can easily conclude that switching from the "bridge mode" to "standalone mode" in the midst of ticket sales is simply big no-no.
Conclusion
The important thing to know is that there is no "right" or "wrong" way. It is only your scenario that dictates which of these two ways you will opt for. In this post, we have listed some of the most common scenarios our customers asked us about but it is very likely that we have missed just the nitty-gritty detail, so important to you. If that is the case, please shoot us an email to info@tickera.com and we will gladly explain everything you want to know.