Limit check-ins on time basis
We at Tickera are always listening to our customers' feedback and trying to introduce as many new features as possible if it is often asked for. One of the most sought after features was limiting check-ins on time basis. So, in the version 3.4.9.9 of Tickera, we have introduced a this feature and what you can do with it.
What is it and how it works?
If you have updated Tickera to the version 3.4.9.9 or above, you might have noticed that, when creating new or editing existing ticket type, you have a new option labeled as Limit check-ins on time basis. If you set this option to Yes, a new field will appear where you can enter a number of check-ins allowed and select from the dropdown menu whether it is on per hour, day, week or month basis.
Not sure what is Tickera? Go
here
to find out!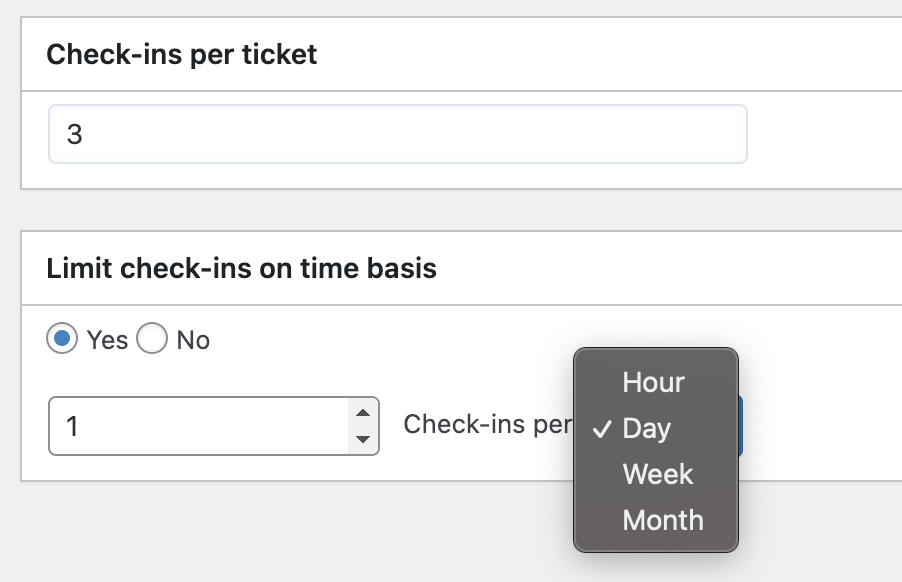 This might seem like a small addition but is in fact very powerful feature as it will allow you to limit number of check-ins both in total as well as within an hour, day, week or month. So, let's continue by describing some common scenarios where you might find this new feature useful.
Multi-day events
One of the most common scenarios this feature opens up new possibilities is certainly multi-day events. Let's say, for example, that you're organizing a festival that lasts five days and want to offer customers to purchase tickets for a single day, two days, three days and all five days. Previously, this could be only achieved by either creating a separate ticket type for each of the days and instructing customers to purchase separate tickets for each of the days or you could use a check-in limitation with total number of available check-ins and then keep close attention not to check-in someone's ticket twice by accident as that would invalidate their ticket for the next day. However, with this new feature, in this scenario, you can simply create ticket types for multiple days, set the total check-in limit to match the number of days and then set check-in limitation on time basis to one check-in per day and that's it - you're all set up.
Season tickets
If you're hosting some event with multiple days across the season (eg. some sports event or something similar) and your event occurs on a weekly basis, you can create and sell season tickets which will have one check-in allowed each week. At the same time, to ensure that this ticket won't be eligible for check-in the next season, you can set check-in availability start and end date and time that match this season's start and end date.
Memberships
Although we have already offered a solution for gyms and similar membership-based ticketing here, to get the full potential of this solution, you would need to run Tickera alongside WooCommerce via Bridge for WooCommerce and utilize WooCommerce Subscriptions which is a premium and quite expensive plugin. However, the ability to limit the number of available check-ins on a time basis eliminates the need for using third-party plugins such as WooCommerce subscriptions and makes things quite a bit easier. Let's say you have a gym or yoga studio and want to offer memberships for one month, three months, six months, and a year. You can now create a separate ticket type for each of these scenarios, set check-in availability to either Within the following time after the order is placed or Within the following time after first check-in (depending on your personal preference) and then limit check-ins to one per day or, if you only allow, say, three visits per week, then you can set it that way.
Preventing counterfeit tickets and multiple check-ins of the same ticket by different attendees
As a bonus, this feature can also be used to prevent multiple people checking-in the same ticket if you allow multiple check-ins. So, even if you allow multiple check-ins (for example, for multi-day event), if you limit check-ins to one per day, you can rest assured that once this ticket is checked-in, it cannot be checked-in again until tomorrow. This also comes in handy to prevent multiple check-ins by accident (which happened in the past more often than you think). Basically, check-in limitation on time basis can act as another layer of security as well as fix for accidental ticket check-ins.
Conclusion
So, there you have it: you have asked for this and we have delivered and we believe this feature will be quite useful for many Tickera users with scenarios along the lines described above. Of course, these scenarios are only a few most notable ones but in combination with other features available in Tickera, possibilities for check-in limitations are vast. If you have used this in some creative way we forgot to mention here or have an idea how to improve this feature, we would like to know all about this so send us a message via our contact form.