Solution: Scheduling Ticket Sales
We are often asked by our customers, how to schedule the start and the ending of their ticket sales. The reasons for that are numerous: Early Bird discounts, Special Offers (within certain timespan), Promotions, Giveaways,... just to name a few. We understand that this feature may come handy but as our developers are on to integrate that option in Tickera, we figured out pretty easy workaround for that using free third party plugins from WordPress repository.
Now off to the instructions.
First you will need to create Ticket Type for the sale you want to schedule. As for plugin of choice we are going to use Timed Content free plugin (found here https://wordpress.org/plugins/timed-content/ ) to set the date and time of launching and to set the duration of the EarlyBird discount.
Not sure what is Tickera? Go
here
to find out!
Open/edit the page or post where you want your scheduled sale to show. If you have installed and activated Timed Content plugin, you should have the shortcode builder icon just beside the text formatting options. Click on that icon, and you will be presented with the options for timed content like shown on the picture below.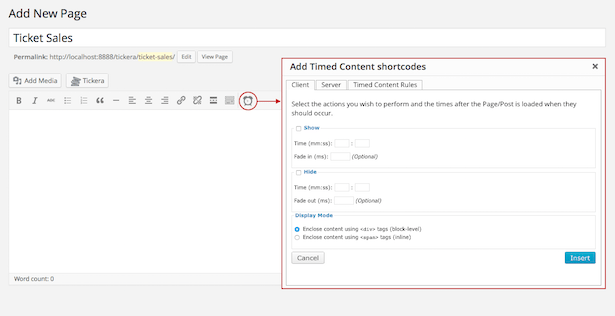 Now, as this may come handy for  quick setting up scheduled content in terms of just using start and end times (being it on client or user side), it doesn't offer the option for setting up the date for the scheduled content. For that, we are going to use Timed Content Rules option where we can define much more options.
The options on the Time Content Rules are pretty self explanatory as the picture below describes.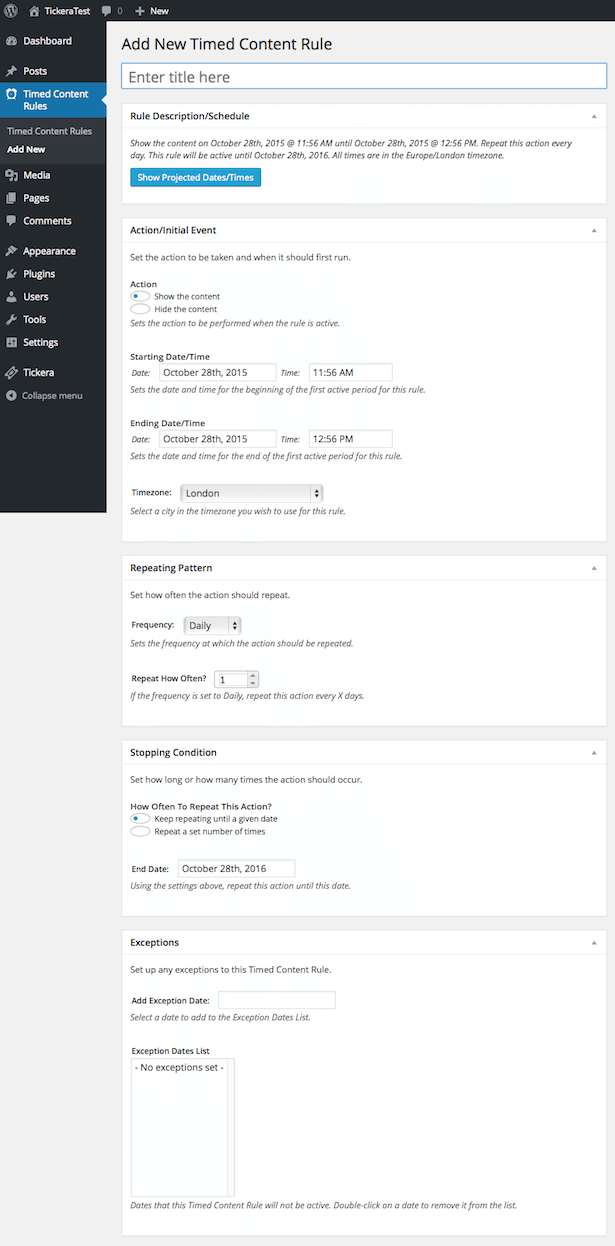 When you have created your Timed Content Rule, it can be selected from the corresponding tab on the shortcode builder.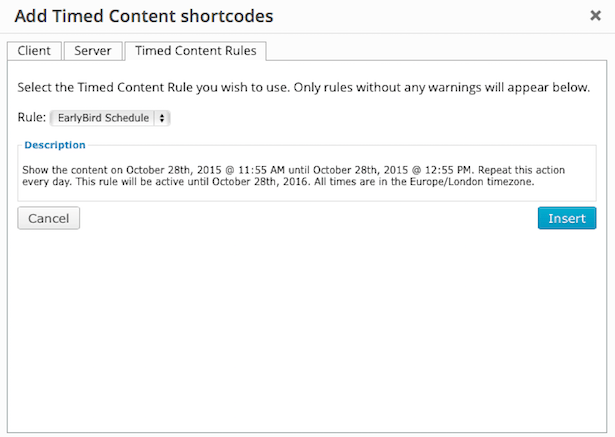 Now, when you select our rule from dropdown menu, hit the Insert button.
The Timed Content shortcode consists of two parts: Start of the code and End of the code. The content you want to schedule should be put between the start and the end of the code like shown on the picture below.
Once the shortcode is inserted to your page or post, place the cursor between the start and the end of Timed Contend shortcode and using Tickera shortcode builder, select EarlyBird ticket type from dropdown menu and insert the shortcode.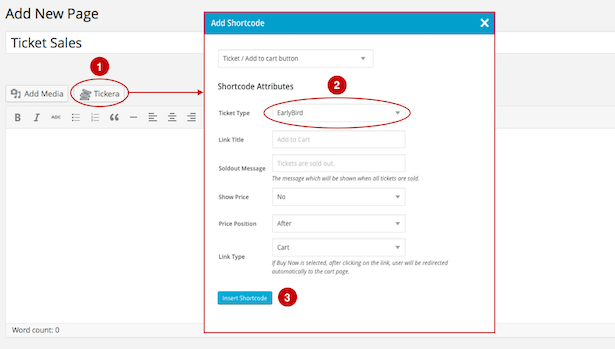 When done, your code should look something like this

Please note that the numbers in both shortcodes will be different then in the picture above.
This way you will be able to schedule the start and end dates and times as well as schedule multiple ticket types to be available for certain or even recurring times. There is no limitation on how many these shortcode combinations you may insert to your page or post.