We're switching to Freemius!
Over the years, Tickera grew bigger and bigger which, as a result, had more and more complicated license handling, accounting, and it simply started to take us way too much time dealing with administrative issues instead of developing more new features. At some point we've started exploring other options but with few strict goals: we wanted to leave our licensing model the same, to be able to transfer all of the existing licenses, to offer our customers better license management and to overall improve the experience for our customers from the moment of purchase until the moment of installing the plugin and later on, license renewal. Guys at Freemius seemed very eager and went above and beyond to help us get onboard.
So what all this means for you? What is still the same and what have changed?
Not sure what is Tickera? Go
here
to find out!
What's the same?
The price
Yup, the price is the same. We haven't made any changes to our pricing and licensing models. So, our existing customers will renew their licenses with the same prices and you will still be able to use Tickera on any number of websites with the same license key.
Plugins and add-ons
None of the functionality of Tickera and all of its add-ons has been changed. So, once you update Tickera and its add-ons to Freemius powered versions, the functionality will remain exactly the same. Of course, along with the Freemius integration we've included lots of bugfixes and some new features to Tickera and all of our add-ons with this update.
What's different?
Tickera account
If you are the existing Tickera customer, once you log in to your Tickera account you will notice that your account looks and operates completely different than it used to. There are much more options now that will allow you to handle your licenses in more efficient way. Thorough walkthrough for new options and on how to use your Tickera account can be found in our documentation here.
Another change that you will notice, and it is also related to your account, is that you can now access most of it directly from your own website. Simply navigate to the Account area of Tickera and you will notice that you're able to change your credentials, download invoices, download and install add-ons, check the license expiration and change the license,... in short, it's not overstatement if we say that the account management improved a lot in comparison to what it was before and you will certainly benefit from that.
The way you install the add-ons
So far, you had to download the .zip for an add-on you wanted to install, then navigate to the Plugins area of your website, upload the add-on, install and activate it. But not anymore... So, if you hold Bundle or Lifetime license (the ones that include the add-ons), you can simply navigate to the Account area in Tickera and you will quickly notice the list of the add-ons included with your license. Next to each of the add-ons, there will be Install now button which, if clicked, will do just that; it will install the plugin for you and all you need to do afterwards is to activate it and you're done. Sounds simple, right? Yeah, it really is.
And, even if your license does not have any of the add-ons included (like Standard license for example), you can navigate to the Add-ons area on your website and purchase the add-on from there after which you can install it in two clicks without ever leaving the dashboard of your own website. Now, if you're running Tickera in WordPress multisite network, you should always network activate all the add-ons you intend on using as this will make it possible to handle activate the license network-wide as opposed to activating add-ons on per subsite basis in which case you would need to activate licenses for each subsite separately.
Handling  the invoices
Previously, you had an option to download the invoice for your Tickera purchase. However, this invoice contained credentials that you have entered at the moment of purchase and you weren't able to edit them further. So, in case you missed to enter some of the details or entered something wrong, you either had an invoice with wrong credentials or you had to contact us to send you corrected version. Both of the cases were far from ideal. But, that's all history now. Not only that you can download your invoice right from the back end of your website but you can also change the credentials on the fly and download the invoice with new credentials and all that with never leaving the comfort of the back end of your very website.
License renewal
License renewal is now automatic by default. Of course, you can change this in few simple clicks within the settings of your Tickera account but we suggest you to think twice before you do that and here's why; although automatic renewal might come as unpleasant surprise, we must remind you that Check-in apps cannot work unless your license is valid. And it happened more than we can count that our customers contacted us in the utter state of emergency with having full house sold out but they can't check anyone's ticket because their license has expired. Of course, in such cases we're not asking too many questions but instead are helping out by temporarily renewing the license. But the point is that people often forget about their license expiration, despite the reminder emails. This is why it would be smart move to leave automatic license renewal on.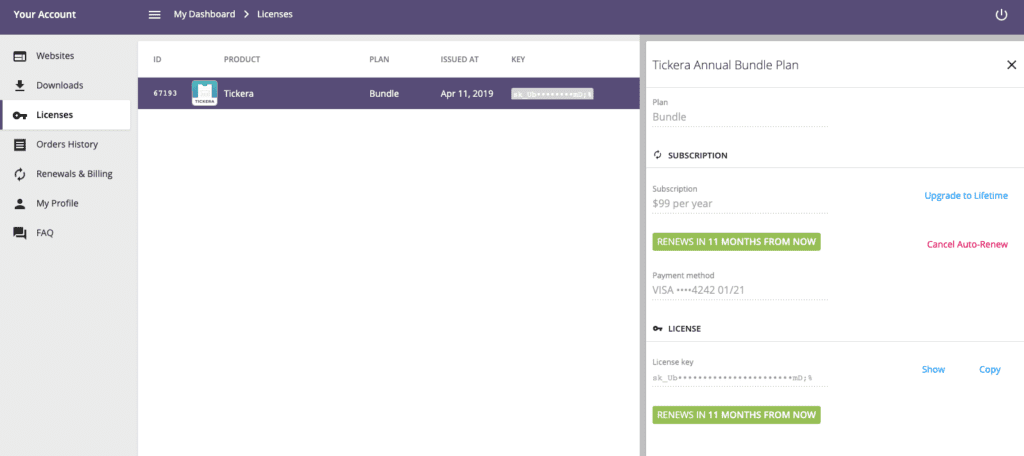 License handling
This feature is brand new and helps primarily agencies or freelancers who are in the business of website development and as such have clients with websites that use Tickera. So, imagine you have multiple clients with Tickera-powered websites and, theoretically, something went wrong for whatever reason and they decide they don't want to pay for your services and cancel your WP admin account. From both technical and moral standpoints, this is a nightmare. However, with new license handling, you can simply log in to your Tickera account on our website, head to Websites area and there will be listed all of the websites which are using your Tickera license key and from where you can simply deactivate license key for Tickera and each of its add-ons separately for specific domain. Good thing, right? We'd rather like you to never have to use this as means of forcing someone to cooperate but, hey, if it happens, at least you have a way to defend your interests now.
Why all this?
Benefits of switching to Freemius, for you as Tickera customer, are vast. And, at the same time, it will take tremendous weight from our shoulders. So, it's basically a win-win situation for you as our customer and us as developers. In addition, we will have much more time to focus on new features and polishing the existing ones which, again, is beneficial to you as Tickera customer as well. Of course, time will tell whether this was wise move to make but so far we cannot find any cons to this decision.