Ticket sale stats on the front end? Oh, yes, please!
If we got a penny for each time we got asked this question, we might not be rich by now but we would certainly have enough for a nice lunch with a desert. Jokes aside, chances are that you have been most likely wanted to have a nice overview of the ticket sales for the events on your website without having to log in to the back end but instead simply visit some page or post and have this information at a glance. So, we have once again listened to your needs and decided to release an add-on that will do this for you. But, we wanted to make it right (which we are now using as excuse for waiting for this so long) and add a few options that we think you might find useful.
How all of this works?
First off, you will need to download the add-on from here. The add-on is installed and activated like any other WordPress plugin. Once you install and activate it, if you read it's description, you will figure out right away that there are three shortcodes that you can use. If you haven't read the description yet, here is an overview of what this add-on offers:
Not sure what is Tickera? Go
here
to find out!
[tc_custom_event_stats type="upcoming"] - placing this shortcode to any of the page or post will display all of the upcoming events and the stats for the ticket sales for each of these events.
[tc_custom_event_stats type="past"] - similarly, this shortcode will display all of the past events along with the ticket selling stats.
[tc_custom_event_stats event_id="123"]  - this shortcode displays a particular event with its ticket selling stats. Of course, you should replace the 123 with the ID of the event you want to display stats for.
How does this look like and why is it all in English?
The look of this information will depend entirely on the styling of a theme that you are running on your website. Below are some screenshot examples just to get and idea.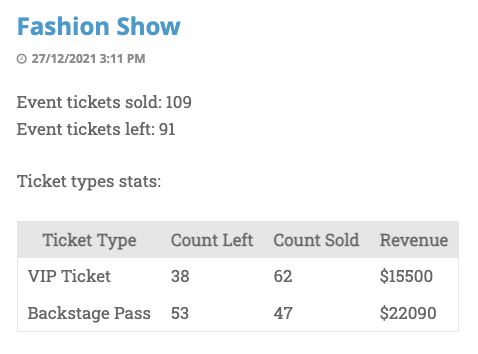 As for the second part of the question, by default, all the labels are in English language. However, we have made all of this completely translatable with the included language file so that you can utilize standard .po and .mo files and translate all of the strings as you see fit. If you're not sure how to utilize language files and create a translation, check out our instruction about this here.
I'm running Tickera alongside WooCommerce via Bridge for WooCommerce. Will this work?
Oh, absolutely! This add-on works with Tickera as a standalone as well as with the tickets created as WooCommerce products using Bridge for WooCommerce. And even if you have created ticket types as variable WooCommerce products, the table in the stats will display each individual variation with the number of sold, left and revenue for each.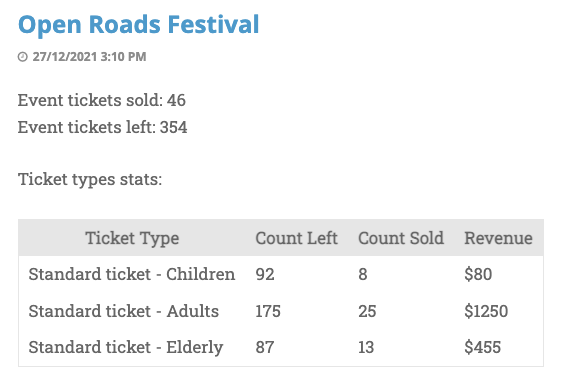 But I don't want this to be visible to everyone!
...and we perfectly understand that might be the case. So, what options do you have? There are several. The quickest one is certainly making pages and posts that display this information, password protected. However, there is also a more elegant solution by utilizing our Restrict plugin which will make it possible to display or hide this information based on user roles, user capabilities and a myriad of other criteria that Restrict plugin supports.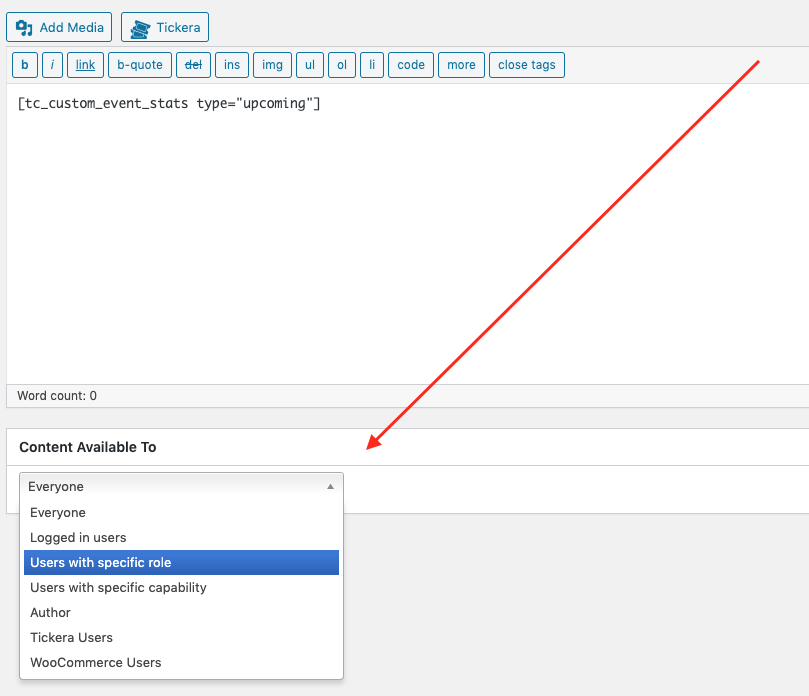 Wrap up
At the end, instead of wrapping up and summarizing,  we'd rather ask you what you think about it and if you have any ideas how we might improve it. Have you already used something similar? Found something missing or that might be better? Shoot us an email at info@tickera.com as we're listening closely.
Have fun and as always... Happy Ticketing!