Whatever opinion you might have about it, WordPress' new editor named Gutenberg is imminent. So far it had very polarizing effect on the whole WordPress community and while ones are praising it, the other ones are hating it. But, that doesn't change the fact that it will be released as part of WordPress core so developers haven't had any other choice than to roll up their sleeves and make their themes and plugins compatible with it, a process which wasn't easy at all given that Gutenberg shifted its shape very often. However, with the official release date on the horizon, it's more and more evident how it's going to work and changes are less and less drastic so we believe it is now safe enough to announce Tickera's compatibility with Gutenberg editor.
Why Gutenberg (and is there an alternative)?
The whole idea behind Gutenberg is to provide easy-to-use blog editor that will allow authors to create layouts for their pages effortlessly and without fumbling through the code each time they need to tweak the layout specifically for that one page. This means that creating and editing pages and posts in WordPress will change forever as soon as version 5.0 is released.
Not sure what is Tickera? Go
here
to find out!
If you're not ready yet for this major step, you will still have an option to install Classic Editor and continue using WordPress like you used to and it is confirmed that this will be supported until at least year 2022.
However, we at Tickera jumped the Gutenberg bandwagon right in time and silently released Gutenberg block support with Tickera update version 3.2.9.2 back in July 2018. Of course, this doesn't mean that Tickera will stop working as it worked before - using shortcodes. If you install WordPress' Classic Editor, the whole workflow for you, as Tickera user, will remain unchanged. But, if you want to explore the goodness of Gutenberg editor and at the same time need your Tickera content on the front end without much hassle, now you can.
Building blocks
When editing your content with Gutenberg, the first thing you will notice is big, fat Add title text and the rest is pretty much blank space below. Apart from pretty self explanatory Add title thing, it's okay if your first thought is What the heck? But let's scratch the surface a bit. If you just click below the Title you can start typing your regular paragraph text like you would do in the old editor. And if you do that, you will, most certainly, notice the plus icon on the left which simply calls for clicking. Go ahead, click it. This is where Gutenberg magic begins to happen. When you click this icon, it will reveal all the available blocks that you may ever need for content editing and embedding. The list of available blocks is long and will get even longer with each new plugin that integrates with Gutenberg so they have conveniently included Search box to make it easier for you to find what you're looking for. Now, go on simply type in to that search box "Tickera". Something like this will appear: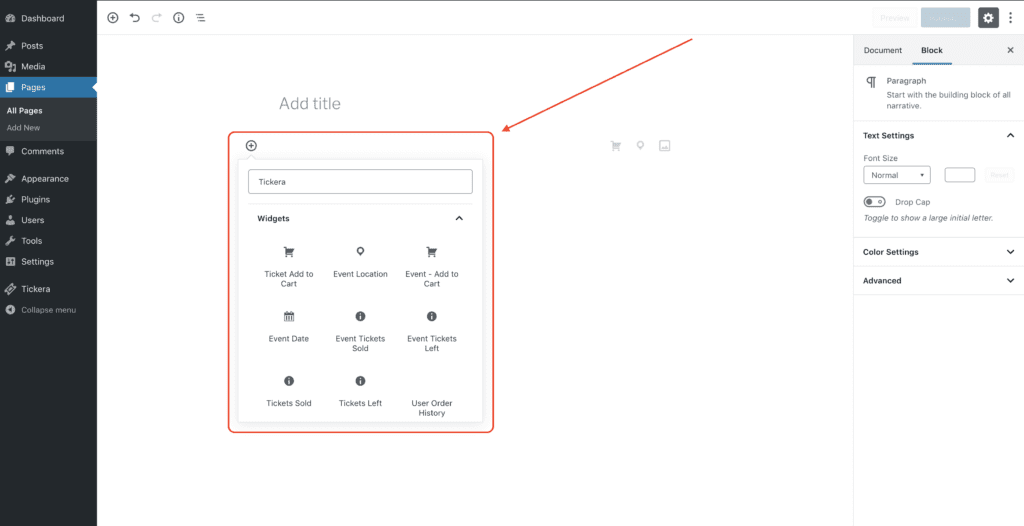 Do you get the idea now? Yes? No? Ok... let's explain what each of these Tickera blocks does:
Ticket Add to Cart - Displays simple Add to cart link for the specific ticket type
Event Add to Cart - Displays the list of all the available ticket types for the specific event with Add to cart links
Event Date - Shows the event date
Event Location - Shows the event location
Event Tickets Sold - Displays the number of sold tickets for the whole event
Event Tickets Left - Displays the number tickets left for the whole event
Tickets Sold - Displays the number of sold tickets for the specific ticket type
Tickets Left - Displays the number of tickets left for the specific ticket type
User Order History - Shows order history for logged in user (customers must purchase their tickets while registered and logged in for this to work)
Event Terms and Conditions - Displays the content of the Terms and Conditions field entered while creating new or editing existing event
Event Logo - Shows the logo of specific event
Event Sponsors Logo - Shows sponsors logo of specific event
So, as you can see, there are quite a few blocks at your disposal allowing you to display basically anything you need related to Tickera events and tickets. Now, when you add each of these blocks, different properties and options for the block will appear on the right hand side, specific for that particular block. So, if, for example, you add Ticket Add to Cart block, the available options will include selection of the specific ticket type which you're adding the button for, whether to show the price or not, price position, button type and sold out message.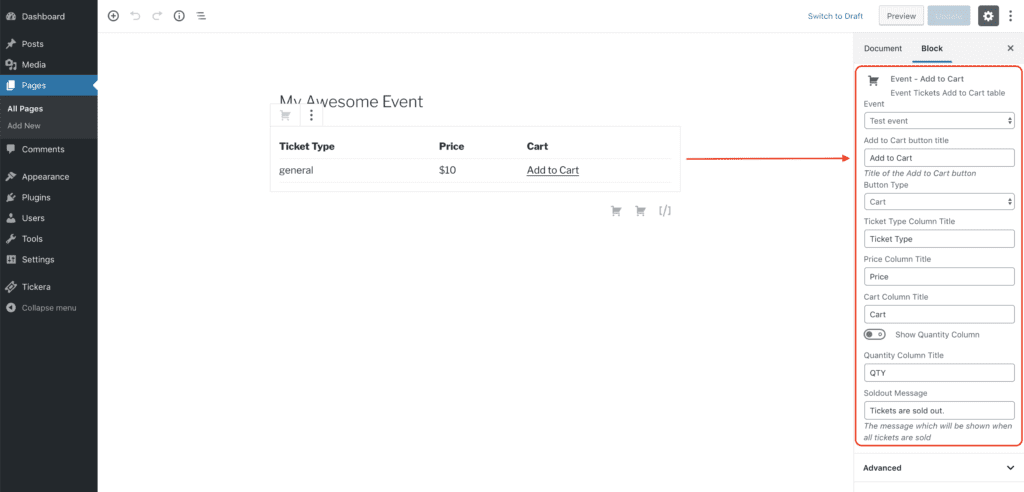 What is also great about this, is that Gutenberg allows for each and every added block to define custom CSS class which comes in extremely handy if you need any custom styling for specific blocks, on the fly. This option is located under Advanced tab right below the options of each block.
What about shortcodes?
Although it is more or less clear that WordPress slowly moves away from the concept of shortcodes and instead introduces Gutenberg blocks, shortcodes, being the cornerstone of displaying dynamic content conveniently on pages or posts will stay for at least a little bit longer (just imagine the chaos that would happen if shortcodes suddenly stopped working at this point). When adding a block in Gutenberg, if you search for shortcode you will notice that there is a dedicated block for the shortcodes. And it works just as you would imagine: simply enter a shortcode in it and the content generated by that shortcode will be displayed on the front end. Of course, Tickera's shortcodes are no exception and will work as well. However, it will be a bit difficult to put a shortcode with several arguments without having our shortcode builder at disposal. So, if you already have your shortcodes created prior updating to Gutenberg, they will work for sure. But, if you are starting fresh with Tickera on Gutenberg based WordPress website, we'd strongly recommend using Tickera's blocks in Gutenberg instead of shortcodes.
Wrap up
It is very difficult to draw any conclusions yet without Gutenberg being officially released out in the wild. It's a major change that goes much beyond the mere concept of blog editing and affects some of WordPress' fundamentals.  Time will tell, of course, whether this was a good idea or not. However, we must not forget the power of community which WordPress was always recognized by and which will certainly play the key role in shaping of Gutenberg and WordPress as it was the case before. Nevertheless, it is important to know that you, as Tickera user, are covered in any of the potential scenarios. We have been and will continue to do the best to our abilities to always follow ever-changing currents of WordPress and make WordPress event ticketing as seamless experience as it gets.
Have fun and happy ticketing!