Tickera Bridge for WooCommerce
Through the years of active development of Tickera, we always listened to our customers and highly valued any feedback. As we often say when our customers are asking us for some specific feature "We have it on our roadmap and it should become available as an add-on or one of the future updates". And we are telling no lie. We take our customer's feature requests seriously as that greatly affects the way we are steering Tickera to. It is impossible to meet all of the requirements for each customer and people mostly understand that. But our list of, now more than 20 (twenty!) very useful add-ons, stands as the best testimonial to our claim that we value our customer's opinion and ideas.
More than 20 very useful add-ons stands as the best testimonial to our claim that we value our customer's opinion and ideas
One of the most requested features was Tickera integration to WooCommerce. And it is no surprise, by any means. WooCommerce is certainly one of the best and most used WordPress e-commerce oriented plugins with more 11 000 000 downloads and powering about 30% of all the internet stores. Yes, those numbers are really serious. So, no wonder many of our customers who already got used to having all the convenience WooCommerce is offering, often asked when they'll be able to sell Tickera tickets through WooCommerce. And believe us: that question ringed A LOT at our office.
Not sure what is Tickera? Go
here
to find out!
Also, we knew that WooCommerce offered some great features which were often asked of us to integrate in Tickera itself. So, our developers did their math and decided to do it! The excitement in the office throughout development process cannot be described by words. From laughter to tears and back, we all knew that we are on the brink of something great. Although it was mostly fun, make no mistake - it wasn't an easy job to do at all.
But here it is now! You asked for it and we delivered!
It is up to you now to download it, use it and enjoy the awesomeness of both worlds: Tickera and WooCommerce. Of course, we are here to listen to your suggestions as always and we'll be happy to know if you think there is space for improvement.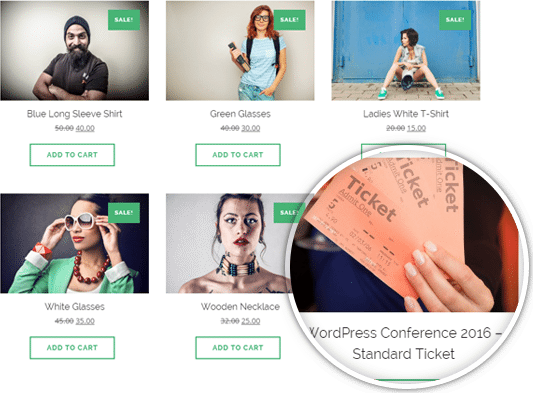 We like to think that this is new chapter in Tickera history. Kind of a milestone, if you will.
A lot of great stuff is behind us, and we believe a whole lotta more in front of us. Be sure that we are taking no rest and at this very moment. Although we have finished a big job, we are currently onto a few even more exciting projects for Tickera but more about it some other time.
Thank you for keeping up with us. We will work as hard as we possibly can to make Tickera better every day.
And, as always... Happy Ticketing