Gift vouchers in your ticketing store?
If you take a look at all the successful e-commerce website, one of the things all of them have in common is certainly the ability to purchase gift cards. And that shouldn't be surprising as it is always better to give someone option to choose and get exactly what they want than to buy the unwanted present (moms and dads of the world know this very well). Essentially, your event ticketing website is not very different from any other e-commerce website, especially if you're selling tickets for many events at the same time. So, why not take advantage of this feature and improve your revenue? After all, it's easy, free and set up in minutes.
Requirements
To make this work, you will have to run Tickera alongside WooCommerce via our Bridge for WooCommerce add-on. With this, you will be able to create and sell Tickera tickets like any other WooCommerce product as explained here. Now, to add the functionality that will allow your customers to purchase gift vouchers, we will be using a free plugin called PW WooCommerce Gift Cards that can be downloaded from WordPress plugin repository here. Once you have all of this installed, you can proceed to creating gift vouchers for your website.
Not sure what is Tickera? Go
here
to find out!
Setting up and using
Setting up of gift vouchers is dead simple. All you need to do is to navigate to the Products area of WooCommerce and create a new product. In the Product data dropdown menu, select PW Gift Card and then enter the amount you want this gift card to have.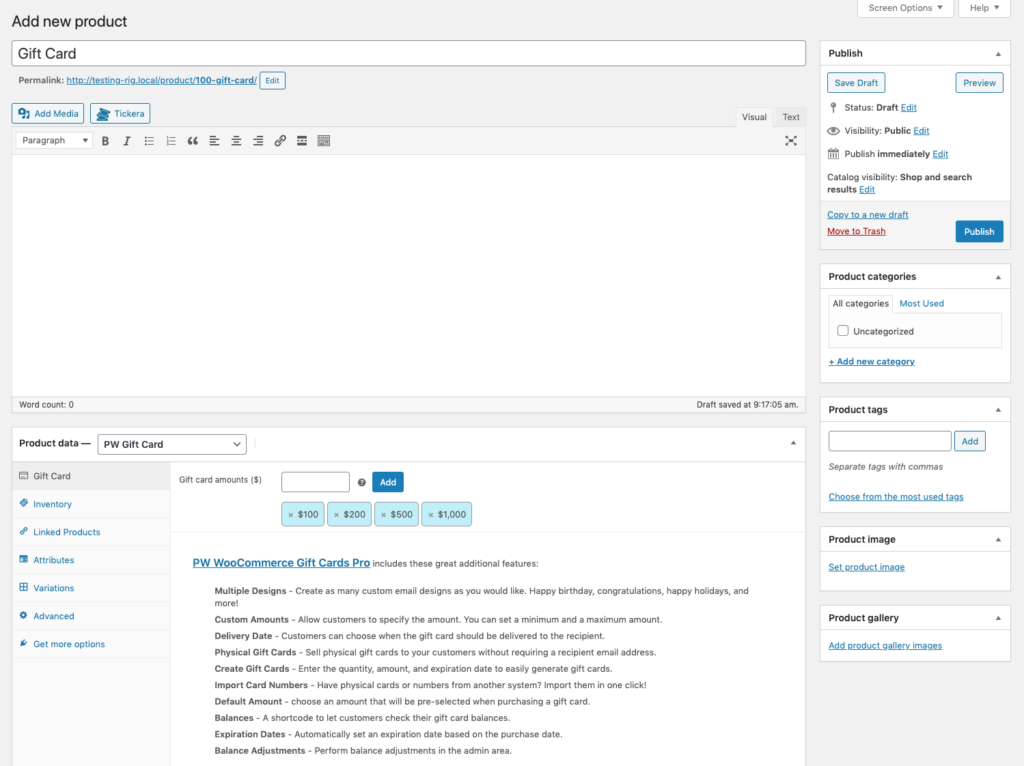 You can even enter multiple amounts which will then allow your customers to select the amount they would like to purchase.
...aaaaaaand - that's basically it - you have created your gift card product 🙂
So, when the customer navigates to the product page of the gift card and select the amount, a few fields will appear: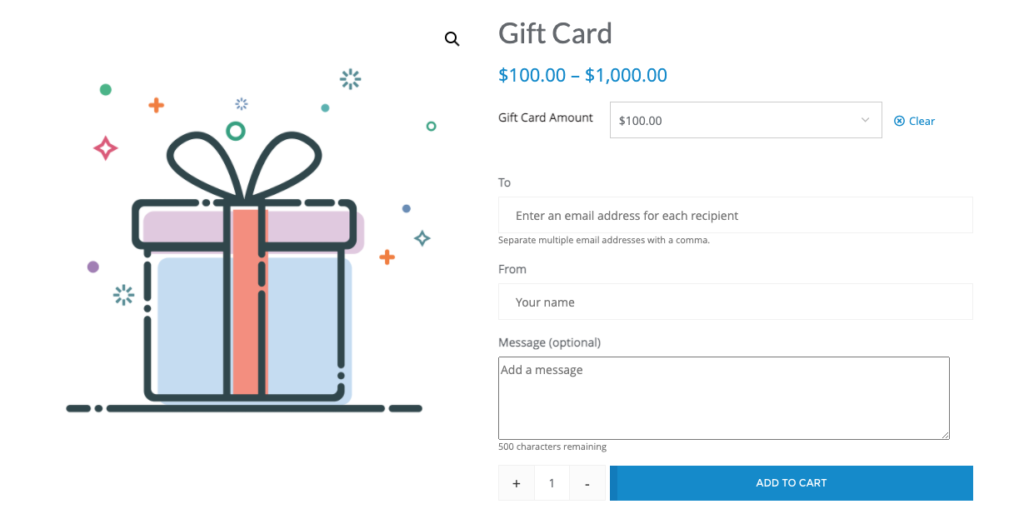 The customer will be able to enter an email address of the recipient(s), their name and a message that will appear in the email that the recipient of the gift card will receive. Along with the name of the sender and the message, a recipient will also receive a unique gift card number that they will be then able to use in your WooCommerce powered ticketing store to purchase tickets for the events they want.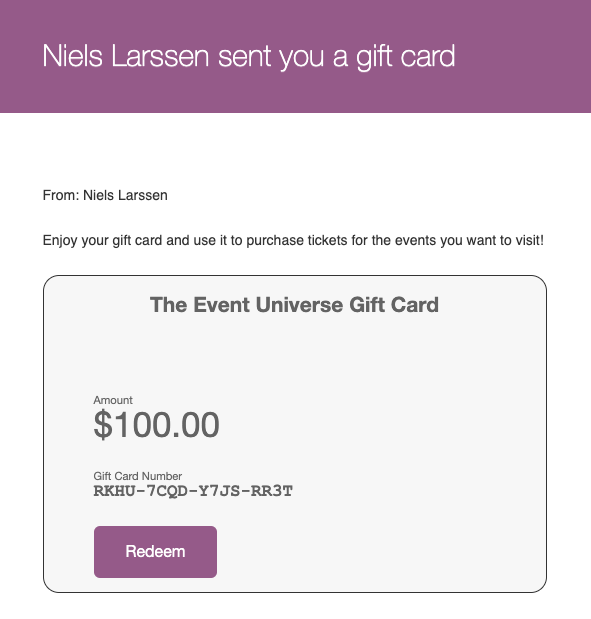 The design of the email sent to recipient is quite modest with settings (you can change a few colors ) but things change drastically if you purchase a pro version of PW WooCommerce Gift Cards plugin. Still, if the functionality is what you're after and you're tight on the budget, free version will do just fine.
Conclusion
All in all, this is quite simple and fast way to increase the revenue for your event ticketing website as it literally can be set up and running in minutes. Of course, with a little bit of trickery, you can increase the revenue even more. For example, if the tickets for your events cost, say $60 and you're offering gift cards for $100, $200 this will either result in unused funds from the gift card or will make the gift card recipient consider buying additional ticket(s) to be able to use the whole amount they have received. In any of these two cases, you will profit inevitably 🙂
Have you used something similar for your event and would like to share it with the rest of the event ticketing organizers of the world? If yes, shoot us an email to info@tickera.com and tell us all about it!
As always... happy ticketing!